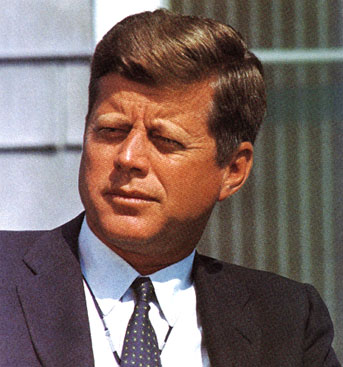 November 22, 1963
Dallas, Texas
In less than
a second,
America died.
CONTENTS

"If you shut up the truth and bury it under the ground, it will but grow, and gather to itself such explosive power that the day it bursts through it will blow up everything in its way."

- French author Emile Zola

"Treason does never prosper.
What's the reason?
When it prospers,
None dare call it treason."

Sir John Harrington
Recommendend is to order your products electronically, the fast, modern and cost-effective way as E-film or E-book. In order to do that go to the order page.

Money back guarantee for all paypal orders: If you are for whatever reason unsatisfied with your purchase, you shall be refunded upon return of the goods within 60 days of order, no questions asked!



DVD James Files interview




View the first part of the video interview:
Image quality of this clip is low compared to the DVD
On the eve of the 40th Anniversary of the JFK Assassination, from Stateville Correctional Center, Joliet Illinois, confessed assassin James Earl Files tells of his role in The Crime of the Century.

In 1989, Houston private investigator Joe West launched an independent investigation to find the true assassins of President John F. Kennedy. After three years of disappointments and dead-ends, West received a tip from an unexpected source: an FBI agent who asked to remain nameless. The tip led Joe West to Stateville Correctional Center at Joliet Illinois, and a prisoner named James E. Files.

Files, who was serving time for attempted murder of an Illinois police officer, was at first, very reluctant to talk. Slowly and meticulously, West established a relationship with Files. Through months of personal visits and detailed correspondence, Files began to reveal his participation in the JFK assassination.

Files was nearing a full confession when West became ill and suddenly passed away in 1993. It took 13 months after Joe West's death, but on March 22, 1994, associates of West videotaped an interview with Files. It was during this interview that James Files first confessed to being the shooter on the grassy knoll in Dealey Plaza on November 22, 1963, that it was he who delivered the final, fatal shot to JFK's right temple. He also implicated organized crime members Charles Nicoletti, Johnny Roselli and Sam Giancana, who all had been murdered in the 1970s.

For the next two frustrating years, attempts were made to bring the interview to the public. This finally led to an agreement for a nationwide TV program. As the program was being prepared, a consultant became involved. Based on his input, the program was suddenly cancelled for reasons that have since been proven to be untrue. Also, reputable JFK researchers have confirmed that the consultant was solidly connected to the Central Intelligence Agency.

Upon his retirement in 1998, the FBI agent who had given the original tip on James Files, decided to come forward. His name is Zack Shelton. Mr. Shelton, who worked organized crime for 28 years, has had an impeccable service record. With the financial support of Dutch businessman Wim Dankbaar, Shelton offered to proceed with a new investigation to either prove or disprove the confession of James E. Files. Shelton called upon and received the assistance of over ten of his veteran FBI colleagues. All of these men have had equally impressive careers with the Bureau.

While the FBI has officially declared James Files to be "not credible," the findings of Shelton and his colleagues have shown otherwise. After painstaking efforts to persuade Files, who had vowed to never again be interviewed, he ultimately agreed to another interview. The second and last interview was taped on November 19, 2003.

We now present that interview to you and leave the judgement of James E. Files and his confession in your hands.

Note from the producers:
This interview is virtually unedited. Out of the total duration of 3 hours, we took out 15 minutes. Mainly irrelevant conversing between the interviewers, changes of tape, loss of sound, and stuff like that. Our goal is to give you the original interview exactly as it happened, without breaking the flow of it. It was not the original intent to leave the questions of the interviewers in. The interview was done to use snippets of it for a more comprehensive program. The interviewers had no separate microphones. At times the questions can hardly be heard or they are repeated and this may not always leave a professional impression. We apologize for that in advance. However we think your appreciation for the completeness of this presentation will make up for it.


******************************
To order you can transfer to the Paypal account info@jfkmurdersolved.com.

In order to do this you have to go to www.paypal.com and transfer the money to the email account. If you are not a Paypal user, you can become one. Registration is free, easy and safe. Of course you can also pay a friend to order it for you, with your shipping address.

You can also order without registration. On the paypal website you can just click on "If you do not currently have a PayPal account Click Here" button.

If you don't want to use paypal, you can also mail a check or money order to:

TrineDay
PO Box 577
Walterville, OR 97489
United States


The DVD is 3 hours total.

This will include shipping costs. Include your shipping address.







Do you want to get the film by email? For only 10 USD you will get the MP4 file. Usually right away upon receipt of payment, but allow 24 hours. Click the button below.







To order the book "Files on JFK" click here.



Save 60 USD: To order the full package:
1 - the book Files on JFK
2 - the DVD I shot JFK
3 - the DVD interview of James Files
4 - the DVD interview of Judyth Baker
5 - Bonus DVD, 1994 interview with James Files
6 - DVD on Chauncey Holt Spooks, Hoods & The Hidden Elite
7 - Comprehensive DVD The Grassy Knoll
for only 60 USD, click here:





To see the other products click here.











The book is also available at Amazon.com.

Search for Files on JFK or Dankbaar